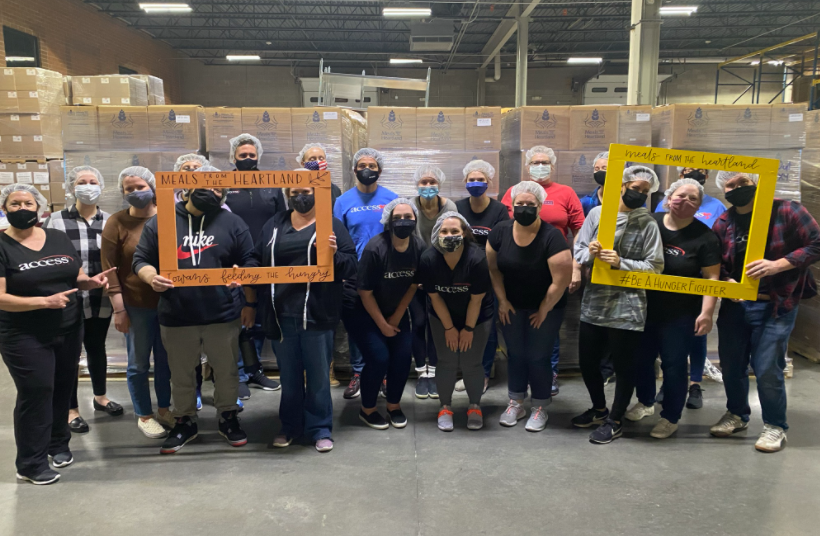 As we have managed to navigate our way through difficult trials over the past year, Access reflects on the significance of lending a helping hand. Now more than ever, we recognize the importance of supporting those within our communities and spreading joy. In dark times, it is vital that companies take responsibility to delivering more than just financial results and focus on the well-being of its employees, community, and culture.
Did you know that partaking in activities such as volunteering has the power to boost mental and physical health?
Companies who volunteer are not only serving their communities but are enhancing the health of their own employees. Considering the last year we had, who couldn't use a mental health boost? According to the Mayo Clinic, volunteering is proven to have a ripple effect of valuable benefits including decreasing one's depression, stress levels, and blood pressure.
The foundation of what makes businesses successful is not the money it makes, but the people behind it. Here at Access, we care deeply about putting our best foot forward into the communities we are located in. In 2020 and 2021 our Access Cares program has participated in blood drives, meal packaging, fundraisers, walks for cures, school supply drives, and many more activities to spread kindness in the areas we are a part of. We are dedicated to sharing our people-first culture through volunteering and donating to organizations in need within our communities. The Access Cares program is led by a group of leaders called Culture Ambassadors. They coordinate and lead volunteer projects in their communities. Spread across the Midwest, Access Systems Culture Ambassadors help foster and grow our 'helpful hand' mentality far and wide.
When asked about the importance of the Access Cares program, Culture Ambassador Crystal says, " The Access Cares program is about getting involved in the local communities and showing people that we are more than just a corporation. We are all local and take pride in the communities in which we live, and in turn, want to see our communities grow and prosper. I believe the volunteering that we do as an organization helps us to be more mindful of how we interact with others. Access Cares enables our team to be more compassionate and we strive to make a difference in the lives of others."
When asked about how volunteering further engages employees, Crystal goes on to say, "When we come together to volunteer it really helps us grow and get to know each other on a deeper level. Our employees get to see one another outside of the work environment, and get the opportunity to learn about what each other are passionate about. Access Cares creates a opportunity for us all to be apart of something bigger than ourselves."
With the focus of growing and creating stronger communities, Access also strives to make its employees feel more connected to our business's purpose of bringing Access culture outside of our walls. As our employees get involved in the community, they are seeing their direct impact firsthand. With our volunteering efforts, Access strives to engage employees and promote job satisfaction by giving them an opportunity to develop leadership skills within volunteering activities and team building events.
In response to Access' team efforts to give back and create a positive impact, Access Systems is honored to be a recipient of Iowa's 2021 Governor's Volunteer Award. Coordinated by Volunteer Iowa, the award program recognizes dedicated people and companies who volunteer to help fulfill the missions of Iowa nonprofits, charitable organizations, and government entities. We could not be prouder of the Access Cares program and the employees who have made this award possible. We thank our employees who volunteer their time and talent to make a powerful impact in the communities Access is represented in.